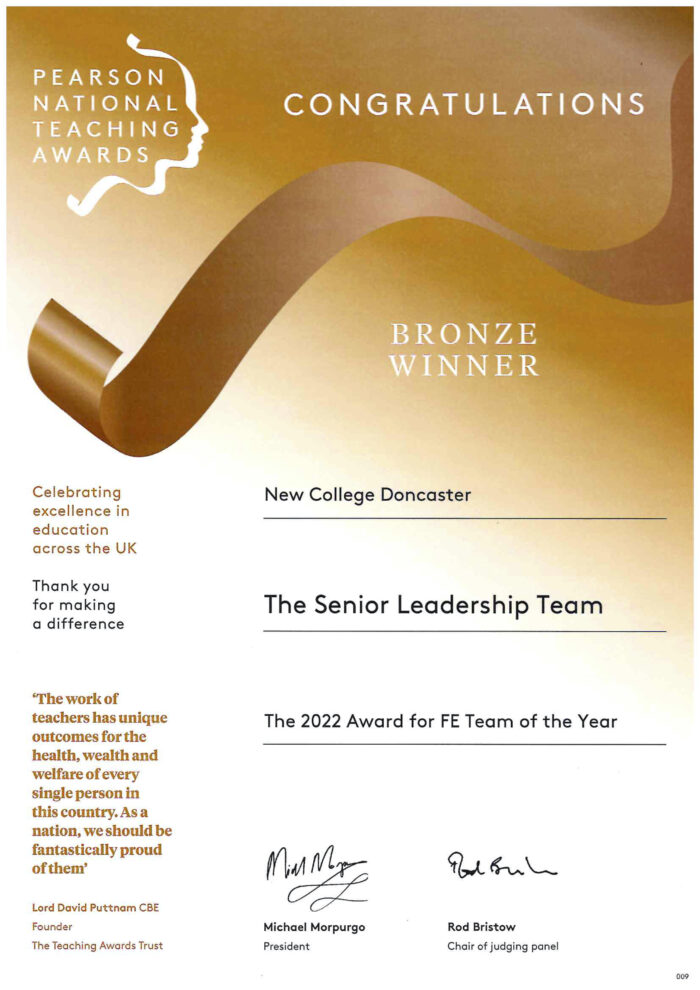 The senior leadership team at New College Doncaster have won a National Teaching Award for their success in leading the college through its first five years, culminating in their 'outstanding' Ofsted report published in January this year. The Bronze Award for FE Team of the Year means they were recognised as one of the six best FE teams across the country this year.
"We know that this award was only possible because of the hard work of our talented staff, the commitment of our students and the consistent support of our advisory board and parents," said Brendon Fletcher, New College Doncaster's Principal."As a team we have, in five short years, seen massive growth in recruitment, the highest value-added progress of any A-Level provider in Doncaster, and a position of fourth in the DfE's achievement table for all sixth form colleges across the country. It is a privilege to work alongside such a talented senior team who have worked tirelessly to create a very special post-16 learning environment for young people in Doncaster. Senior leaders have ensured not only that young people achieve fantastic results, but that they have a wealth of wider opportunities to grow and develop as young adults."
New College Doncaster has grown significantly since opening in 2017, initially with 450 Year 12 students, and is expecting to enrol 850 Year 12 students this September.